Social notation- To find many of these players in 2013, go to Facebook and search for the group "Williams Defender Players Unite"  We'll be waiting for you.  Cheers.
Pre-Release info per Larry DeMar Oct 2013:  In the pre-release time period, I remember the crazy-legendary games played out on the Belden Ave. production line by Eugene and Ray Gay (The guy that did all of the PC board layout for Williams Pinballs and Videogames). They were hitting in the 60,000 – 70,000 range. I don't think the human refresh was in the game at this time. (Humanoid regeneration setting ater added by Eugene)
John McCue (ACE), Chicago, Illinois
Info per Larry DeMar, July 2013- John was the reigning Defender god in our eyes for the first 12 months the game was out.
First person we knew of that broke 1MM on the game and I remember vividly as Eugene and I watched his scores inch uptoward that level
Including 1 day when I was with Eugene and John had just hit around 600,000 and he had the "holy crap" thought, worried about what might happen should someone get to 1 MM
Larry, May 2013- As to the 990,000 behavior, it took months for the highest scores we saw to creep from 200,000 to 300,000 on upward.
I was with Eugene, at a location where John McCue, (who went by ACE on the High Score Table) put up a score over 500,000.
He (Jarvis) said at that time that he thought something interesting may happen when the player gets to 1,000,000 (rolling the score).  He went back to the code the next day and verified that you would get "an advance" of 1 ship from future ships earned for each scoring event between 990,000 and 1,000,000.  Thus if you hit more lower scoring objects during this window you will rack up more ships.
He made the conscious decision to leave this new "feature" out there and history indeed confirms that this was a brilliant move.
I mention John McCue as our Chicago Ace as Doug Mahugh still lived in Seattle at the time and was working along the same curve in parallel.
update from Doug Mahugh, Nov 2013:   I came to know John McCue well. He was a regular at Silver Sue's arcade in
Roger's Park (north Chicago), and I lived in that neighborhood. We often played late at night after the arcade closed. He was better than me at the high game settings (99/99), which Sue started using in early 1982 to prevent good players
like John from monopolizing the Defender machines, and I was better than him at free space. There was also another good Defender player working for Sue — Mike Jardine, a strapping young Chicago boy who wanted to become a cop. The water
plant down by Navy Pier was named after his grandfather, if I recall correctly.
Tom Rhoades, Chariton, Iowa
Steve Juraszek –  Mount Prospect, Illinois – Jan 1, 1982- 15,963,100
In 1981- 15 year old Steven Juraszek's final Defender marathon score was 15,963,100, put him in first place for a short while (.96 million per hour average)
He was named the first superstar of the video game age after playing Defender for 16 hours and 34 minutes on one quarter
Referenced in story that was published on January 18, 1982, p. 51-58. issue of TIME magazine.
Parents and school officials not impressed – record breaking game played on school hours
Juraszek banned from leaving school grounds for rest of his school career
Story about the effect Steve had on Twin Galaxies – Video Game Golden Age
Doug Mahugh – Seattle, WA – Jan 24, 1982 – 20,307,600
I started playing Defender in late 1980, when a machine showed up at the Spot Tavern in Renton, Washington, where I often ate lunch while working as a Fortran programmer at a Boeing facility nearby. I was a mediocre player of many coin-op games, and Defender was the first one I took seriously. I remember one day I stayed at the bar most of the afternoon playing, after my co-workers had returned to the office, and when I told them I had scored 32,200 nobody believed me until they saw MAG (my coin-op handle) on the high score list the next day.

I was soon playing Defender (and almost nothing else) several hours a day. I'd usually take a nap after work and then play until the wee hours at Arnold's on "the Ave" near the University of Washington, a 24-hour arcade that was *the* place to find competitive players in Seattle at that time. The bars had lots of machines, especially places like Goldie's and Bogey's, but there were many world-class players who were too young to get into the bars, and those people hung out at Arnold's.

Arnold's had a series of coin-op competitions in 1981, and I won the Defender competition, which took place over the summer of 1981 with a series of (8 total?) weekly heats and then a single-elimination final round. I took the $1000 cash first prize, and my friend Al Pearcy took the $500 second prize. The games were set on 5/99 for that competition, so that matches could be completed in a reasonable length of time.

I was surprised to see the 1/18/1982 cover story in Time Magazine that proclaimed Steve Juraszek of Mount Prospect, Illinois the "best Defender player in the world," after he had played a 16-hour marathon on factory settings, scoring 15,963,100. I had posted many 999,975 scores, and had played for a few hours on a few occasions, but didn't really consider marathon play very interesting or relevant. But now the gauntlet had been thrown down! 🙂

I talked to the manager at Arnold's, and told him I'd like to play for 24 hours on a single quarter at their arcade the following weekend, to make the point that good Defender players can play as long as they want on a quarter, so "high score" at factory settings doesn't really mean much. I never intended to play any more than 24 hours, because I felt that just turned it into a stay-awake contest, which didn't interest me.

I did the marathon on Super Bowl Sunday, 1/24/1982, starting at 8:30AM and stopping at 8:30AM the following morning. The machine was set to 5/15, and I had a clipboard with a sheet of paper where I had one of the people watching record my score and sign their name after each hour of play. Tad Perry (Seattle's most well-rounded coin-op player in those days, in my opinion) signed the 0 score at the start, and I started playing. I tried to pace myself to earn ships at a controlled rate, because my biggest fear was that I'd get 255 ships in reserve and lose them all when the ship counter rolled over. Nobody else ever touched the controls, and I ran to the restroom a few times and ate two or three hot dogs during the 24 hours. The crowd ebbed and flowed throughout the day, then peaked around midnight Sunday. There were only a few people watching during the pre-dawn hours on Monday, including two guys who were tripping on acid and thoroughly enjoying the show.

When I stopped on Monday morning, Dave Schanen signed the final score of 20,307,600, and the manager at Arnold's rather ceremoniously gave me my quarter back. After staring at the screen that long, I found that my eyes had sort of become in synch with the refresh rate or something like that: solid objects looked grainy and digital, but the video game screens looked smooth and sharp. I guess I had temporarily "gone digital!"

I was interviewed by the Seattle P-I that morning, then was on a few radio talk shows in the next few days. I had been working on a "How to play Defender" manuscript, and I learned Eugene Jarvis's name from that Time Magazine article so I tracked him down in Chicago and sent him my manuscript. His business partner Larry Demar kindly provided me with detailed feedback, and I flew to Chicago to meet them in April, then moved to Chicago that summer to take a job at an editor at JoyStik, one of the big coin-op game magazines of that time. I have Defender machine to this day, but rarely play it. I've gone through other obsessions since including golf, piano, guitar, and most recently photography, but Defender was my first obsession, and you always have a soft spot in your heart for that first one. It is a wonderful game.

Some past issues of Joystik magazine online- https://archive.org/details/joystik_magazine
Tommy Smith – New Mexico – 16,604,200
Santa Fe New Mexican, May 1, 1982…efforts of Tommy Smith current Defender world record holder: 16,604,200 points in 16 hours and 30 minutes and Steve Juraszek the Arlington Heights who enjoyed a flurry of publicity after his near ble 16 hour and 34 minute Defender game  (1 million per hour average)
Tony Matten – Twin Galaxies- Ottumwa, Iowa – Feb 8, 1982- 24,565,975
1.065 million per hour average
Marvin Pete Norton- Arizona – Mar 8, 1982- 23,338,975
.97 million per hour average
National Defender Championship- sponsored by Twin Galaxies
April 2-4th, 1982, 30-35 arcades participated
1- Rick Smith, Misson Viejo, CA, 33,013,200 (Full story from Rick HERE)
2- Wesley Moniaci, Sacramento, CA 31,609,450
3- John Umene, Waukegon, IL 27,581,775
4- Steve Black – 27,437,275
5- Joe Dearman,  24,630,475
25 players scores referenced in Twin Galaxies record book
Kevin Johnson – 5/22/1982 – 33,223,500
Troy Freese – Early summer 1982 – approx. 26 million
According to Walter Day, a batch of score data was lost and this score would have been involved
The game occurred in a small arcade "garage" in the alley of a parking lot for an ice cream store at 233 N. Sheridan in Ottumwa, IA.  (the website author witnessed the game-play first hand)
"I stopped in the 26 million area.  I had played over 24hrs is all I remember.  Also remember the fatigue"
"Getting the score felt awesome…. But the mind was wiped out… If i recall I slept 12hrs" (12-17-2012)
Location where Troy played is the small garage beside the parking lot.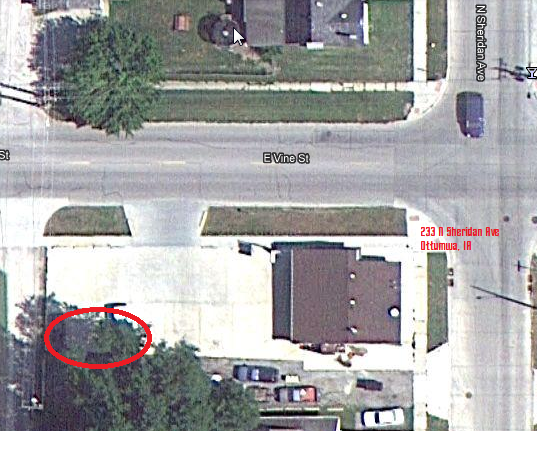 Stan Brendan- Jun 13, 1982- 34,223,175
Chris Wichman- Jun 16, 1982- 35,295,375
Steve Mendenhall- Jul 02, 1982- 25,418,250
Jeff Manfroi- Sep 04 1982- 52,151,450
Dale Rees- Merit Island, FL – Sept 28, 1982- 42,335,225
1.057 million per hour average
My 40-Hour Defenderthon: 42,335,225 (Sept. 28, 1983)
by 18-year-old Dale Rees
Back in the October issue of VIDEO GAMES, Dale Rees, of Cocoa Beach,Fla., slapped our wrist for printing an erroneous Defender high score.  Rees added that he would be going for the record – 33 million points at the time – and asked if we would like a report on "the event."  "Certainly," we replied.  Two months hence the following article arrived in the mail.
At the age of five, I was told that my coordination would never be right.  I couldn't even touch my nose with my hand.  And here I am preparing to top the Defender high score.
It's 10 a.m., Tuesday, Sept. 28, when I pop my quarter into the machine at the Game Tunnel inMerit Island,Fla.  My first ship goes down at 62,375.  My first soda goes down as i start to climb the big bonus level of 990,000.
I'm well into th fourth million when the game room begins to fill up.  It's already way past dinner-time when someone brings me a burger; another friend supplies Pac-Man cookies for some quick energy.  By 11 p.m. – as I pass the 14 million mark – the spectators are beginning to thin out.  A leather pad I designed is doing a good job keeping the cabinet's hard edge from gnawing at my wrists – no soreness yet.
Dwayne Coffman, my Defender-playing partner, talks to me through the wee hours.  By 6 a.m. (Wednesday) my score stands at 22 million.  I'm hungry again.  Dwayne feeds me an Egg McMuffin and coffee.  Suddenly, nature calls – I hold off until the last moment, make a mad dash to the bathroom, throw some cold water on my face and race back to Defender.  incredibly, only three of my well-stocked ships have been lost.  By noon, Milt Salamon, a local newspaper reporter, arrives, followed by the local TV crew.  Soon the room is flooded with bright lights, and I'm being asked lots of questions.  In the background, I hear a live radio D.J. informing all of Cocoa Beach what I've accomplished so far.  Then my mother arrives and spoon feeds me chili in between attack waves.  Even in three-second gulps, the hot food is calming.
At 5 p.m. I reach the magic 33 million point.  While friends whistle congratulations for achieving the goal I set, I decided to run the machine up to 34 million before quitting.  Then I get some shocking news.  According to Twin Galaxies National Scoreboard, in Iowa, the Defender score is 52 million!  Even though I hadn't planned on a second night without sleep, I keep going.
By 11 p.m., at 39 million, I'm in pain.  The ice packs scorekeeper Guy Kent has been putting on my knuckles are no longer helping; my right foot, which has been supporting me through this ordeal, is throbbing.  At midnight, my concentration starts to lapse.  My hands seem to be moving independently of my brain.  Suddenly, at 41,410,00, I drop to four ships.
I feel like a boxer who's down for the count.  Three, two, now one ship left.  I'm smart-bombing everything just to stay alive.  A new wave Begins.  I smart-bomb the pods and regain another ship.  Have i weathered the storm?  Hardly.  My smart bomb stock is down to two.  Did I overplay them in my previous panic?
The final moment arrives at 42,335,225.  I am, in fact, relieved.  I let my head drop into my hands.  I could cry, but I am just too tired.  Forty hours is a long time Defending.
Ned Troide –  Palm Harbor, FL –  Oct 15, 1982- 72,999,975
1.167 million per hour average over 62.5hrs
Life Magazine January 1983– It has become a $5.7 billion industry, and Ottumwa, Iowa (pop. 27,381), a town 85 miles southeast of Des Moines, is the unlikely video game capital of the world.  Shortly after opening Ottumwa's Twin Galaxies Arcade a year ago, entrepreneur Walter Day, 33, realized that no one was keeping track of the nation's high scorers.  To remedy this, he set up a 16-by-18-foot International Scoreboard that displays the names of all the current record holders on TV screens.  Onetime champ of the game MAKE TRAX, Day receives an average of 20 phone calls a day from hard-core players eager to know how they rate.  A score must be verified by a "letter of proof" from the manager of the arcade where the game was played, and new stars can be born at any moment.  Recently 16 of the country's top "vidiots" converged on Ottumwa for three days of fun and games.  The group included Ned Troide, best known for having played DEFENDER for 62 1/2 consecutive hours on a single quarter.  The games have their critics, of course.  Physicians claim that maneuvering a joystick too many hours can lead to "video elbow" and "arcade arthritis."  The mental side effects can be equally serious, according to U.S. Surgeon General C. Everett Koop.  "There's nothing constructive in the games," says Koop.  "Everything is kill, destroy, zap the enemy."  Retorts TEMPEST virtuoso Leo Daniels, "I think Koop is a quack."
Welcomed by Ottumwa High cheerleaders, 16 all-stars – ages 14 to 30 – gather on Main Street behind six of the top video games in the U.S.  Ten of the hotshots and the games they conquered are below.
Scott Dixon- Dec 25, 1982- 48,955,300
Ronnie Igo- Dec 22 1982- 75,644,775
Joe Carson – Buffalo, New York – Jan 17, 1983- 76,000,350
.947 million per hour average
Burt Jennings- Durham, NC- Apr 8,1983- 76,377,300
Published in Electronic Gaming December 1983
His story in his own words- As a kid we had Arcade game rooms and Arcade machines at various stores around town. It wasn't long before I caught the bug and was sitting at machine whenever I got the chance! One particular game really had me hooked and that was Defender! I played Defender over and over until I mastered it! I would ride my bike all over town beating the high scores on all the Defender machines! I was super excited when I found out they opened a the "Outer Limits" game room a couple miles from my house! I would go there on Saturday and Sunday and stay all day praying Defender. It got to the point where I'd play Defender with one quarter all day sometimes rolling over 10,000,000 until I'd walk away and let my men die out. The owner finally placed a sign on machine limiting playing time to only one hour because he was losing money. One day he ask me did I want to try and beat the World Record on Defender! Of coarse I said yes with a BIG grin on my face! So me and some other obsessed gamers set out to do just that! There was about six or seven of us on several different games all trying to beat the World Records. As the night went on one at a time players were dropping out except for me (Defender) Roger Mangum (Stargate Defender) and Mike on (Galaga) Mike, I think beat the World Record fairly early compared to what me and Roger had to do. Just after 24 hours it was just me and Roger playing side by side me on Defender and Roger on Stargate. I told Roger I can't do this man I'm about to fall asleep on this stool. Roger kept pushing me to stay in it and keep going so I did. I managed to make it thru another 24 hours with the help of a lot of caffeine and Roger pushing me to complete it! After 52 hours my wrist and hand had swollen so bad I had to tape paper towels to soften my hand to keep it from hurting so bad! Finally after 60 plus hours, not sure exactly how many hours just remember in the 60's I was done but Roger was still going, because he had started a little later then I did. I hung around to see Roger beat the record then I went home and slept over 24 hours straight!! I will never forget those days as long as I live! I also came very close to beating Ms. Pacman World Record which wasn't planned just happened one day while playing, some how I kept going and going without being killed. I remember shaking in my skin at how close I'd came to beating the score and nobody was there but me! Anyways I got killed off and that was that! I now have three kids one which is a boy and he loves to play video games on PS3, online games, etc!"
Chris Hoffman- June 2, 1984- 79,976,975
Simon Grant- April 2007- 93,123,000
In the spring of 2007, one of England's master Defender players set out to see if it was possible to beat the marathon World Record as published at TwinGalaxies.com:  79.9 million points!
What most people don't realize about marathoning Defender is that Defender has a significant program defect between 990,000 and 1 million. At 1 million points the score rolls back to zero, termed "clocking the score
."
  This program defect is affectionately called the "
Goldilocks zone
" by Simon, and called "
Extra Life Bonanza
" in the Don Hodges program analysis.  A mistake during this phase of gameplay can cause your bonus ship counter to reset, effectively ending your game.
I find a mllion takes on average 55 mins as long as your not buggering about in the "Goldilocks zone." (1.09M per hour)
Armed with this insight isn't enough to win the battle.  It takes precision strategy, which can become comprised when the body starts shutting down as the marathoner reaches the 40 hr mark.
I think people are missing a major problem when going for marathon games. Not only do you have the physical and mental problems but also the need to manage the ships and smart bombs that are built up over millions and millions.
I had a games of 16 & 40m that I lost due to "clocking" the ships. This lead me to develop a strategy that allowed a 93 mil game
Defender began production in 1980 and ended up shipping almost 60,000 units, but that was over 30 years ago.  It is quite difficult to find a genuine original Defender machine to play, let alone trying to find one overseas.  Even when one is found, the odds of the finicky processor board and power supply being in working condition are slim.  As a result most Defender players in current years play from an emulator called MAME.  For a short while, Defender was available on the internet via a Shockwave application using the Digital Eclipse game software.  Simon used the Shockwave version of Defender for this project.
Did it on the shockwave version that used the eclipse software. It's no longer available via the shockwave site. I downloaded it and set the hard drive so it would never go into stand-by mode.
Accomplishing the task of exceeding 80 million points would take approximately 80 hrs.  The equivalent of 2 full work weeks straight, without sleep or proper meals and bathroom breaks.  Considering most classic game players are in their 40's supporting a family with a day-job, playing a video game for days on end just isn't realistic.  Therefore, Simon spread out the game-play over many days using the luxury of a pause button, which would have been unavailable to anyone playing a real machine in the early 80's.
Played it over two weeks or so clocking the smart bombs 8/9 times & the attack waves something like 22/23.
"Clocking" is the term used to describe rolling the game counters back to zero. Attack waves roll back to zero after wave 255.
At the end of 2 weeks of intermittent gameplay, Simon reached his goal of exceeding 80 million points!
I wanted to beat the 80m world record but I knew it had no relevance for Twin Galaxies records, due to the method.
When you are playing a game with a pause button, why not go as long as possible?  How far can the game program run without glitching, and how long can a player keep on-top of the strategy for keeping your bonus lives during the "Goldilocks zone?"  It's a war of attrition:the game; the player; the hardware- one of the three is going to faulter.  And at 93 million points, the game won.
I still went out clocking the ships during the last goldilocks zone.
But I had fun and achieved what I set out to.
In summary, what did we learn?  Much like Robotron, when playing a game designed by Eugene Jarvis and Larry DeMar, you never get to win.  The game always wins.  And yet we live to fight another day, tirelessly saving the planet….one humanoid at a time.
Oct 2013- Goldilocks zone follow-up from Simon:
 the biggest problem with any big score is rolling the ships which normally by sods law usually happens in the goldilocks zone. When this happens it is normally game over & sometimes you don't realise you have even done it if you smart the 4 pods within the goldilocks zone.
The one thing I always tried to do was make sure I always had more smart bombs than ships so they would always clock first. Clearing the waves with no smarts uses up a lot more ships & especially if you go into space but this is what you want to deplete the ships to a level well below the clocking level. I used to try counting them etc. but found i was always loosing count.
After a few attempts I gave myself 1 simple rule which worked for me to 93m but I still clocked the ships in the last g/l zone.
The rule – I would only double up the smart bombs on an attack wave once every 100,000. This is easy to  count & can adapt it if you go into space.
If I had to double up in space & break my rule I would adjust it & not double up for maybe 3/400,000. depending how many times I double or even triplled the smart bombs.
I ended up clocking the smart bombs something like 8 times & the attack waves around 23 when I put that score on but I obviously had the benefit of the pause button.
Billy Joe Cain – Austin, Texas – Nov. 18, 2013 – 33,644,750 over 32.5 hours
Score is adequate to eclipse the top score posted in April 1982 for the Defender National Championship promoted by Walter Day.
Game currently available at http://www.twitch.tv/billyjoecainlive/profile/pastBroadcasts
Highlight– 3.3m donut break at 02:28:45…he says I don't really know how many lives I have…then 2 minutes later…2 men…. and while recovering he is still talking about how good the donuts were. classic champion.  http://www.twitch.tv/billyjoecainlive/b/480266978
Highlight– Near-death survival from 19:11:58 in the video up to 29 mil, 990k: http://www.twitch.tv/billyjoecainlive/b/480418389
Highlight- Last 200k of game up to 33.6mil: http://www.twitch.tv/billyjoecainlive/b/480748992
VGS write-up about the event
This was a single, continguous game as if it was one quarter spent on the game. I "dropped the quarter" on Sat am and I ran out of lives, plain and simple.

WHAT HAPPENED TO 80 MILLION? Well, that's a great question! I was overwhelmed by the alien invaders at 32 and a half hours at a score of 33,644,750.

I've rolled that game over and over, and rolled the 256 waves over before, too. This was the FIRST time I had experienced rolling the waves multiple, multiple times in a row on the same game.

In order to get your mind around this marathon run, combine rolling the million points, rolling the 256 ships, rolling the 256 smart bombs, and rolling the 256 waves into one giant mess, and while you're doing that… keep track of:… – your food intake – your water intake – your ship count – your smart bomb count – your needed restroom breaks

And general human interaction while having news crews, online webcasts, online and in person interviews…

All the while being streamed on the interweb, managed by a referee, and not sleeping or leaving the machine for any reason without the game continuing to run, at a rate of losing ONE SHIP EVERY 7 SECONDS!
That was an EPIC experience!!

WHAT A BLAST WITH EVERYONE PARTICIPATING EVERYWHERE ALL OVER THE WORLD!

Follow-up from Larry DeMar- Way to go Billy!  It was a blast to watch for a couple hours this afternoon……surprised that the game got you.  Certainly not for lack of the skill to keep it going indefinitely…….. Congrats on another amazing achievement!
Billy post-game- I am currently experiencing auditory hallucinations from Defender SFX. I never realized how many everyday things could trigger similar waveforms to Defender sounds. Now I know! It is really, really cool. But my family is already tired of hearing about how cool it is.
Bill Jones – Chicago, Illinois (5 man gameplay)
Defender and Stargate machines (seen in this Youtube clip from Big Bang 2010 in Ottumwa, IA) used for "Tournament Setting" World Records in 2008, donated to Video Game Hall of Fame
It should be noted that his score exceeding 500k on only 5 men was done with a special technique called "Baiter hunting"
Stargate World Record article describing his gameplay style
"I am really just an average joe who put too many quarters into Defender and Stargate and a few other games.  It probably helped to keep me and my friends out of trouble (for the most part)." August 2012
An example from Sweden's Mikael Lindholm's 5 man gameplay being played WITHOUT special point pressing strategies– Youtube  He has exceeded the 300k threshold several times since this was recorded
Eric Liddell – California (5 man gameplay)
DISCLAIMER- As with any cultural event, there is a blurring being facts and a good story.  Although, Walter Day/Twin Galaxies attempted to maintain legitimate scores in the early 80s,there were subversions to the rules of the game (hopefully honest mistakes rather than willfull attempts at deception).  For the participant to be able to have fun, all claims to being the "best" at a game should be taken with a "grain of salt."   "Play well, live honorably, and may your next extra life be lived with dignity"…. rumored to be Spock's exact words to Walter Day when he visited the Captain's deck of the Starship Enterprise in 1982.
Walter Day follow-up regarding score falsifications- Nov 2013-
In the Golden Age, we were unable to monitor any marathon closely. It was all based on trust. We had to rely on the honesty and integrity of the player, the arcade owner and the witnesses. Admittedly, they could have done anything at that time which, from today's perspective, would have been a gross violation of proper verification procedures. I personally believe that the old scores should continue as the historical relics from the Golden age, but that a new standings also be developed that features modern verification of the highest level. And, then over time, we can see how the two rankings stack up against each other. I believe that many marathons of the past were legit.  But as the scores became more and more inflated, that's where the worry comes in. Its the "highest" scores that are the most suspect to today's modern marathoners.  And, in regards to modern verification requirements, I personally don't think a marathon is valid if the player didn't take a urine test immediately after the marathon, to prove they didn't use drugs that were stimulants. I believe that as more and more gamers attempt high-level marathons, and the rewards become greater (fame and money), someone will use drugs…..and that will give them an unfair advantage. And, in the same way that the modern gamers are questioning the scores of 30 years ago, future gamers will be questioning the scores of today's marathoners because they will be suspicious on whether they had used drugs or not. If you want to hold the world marathon record on a game, you ensure that it will always be honored by future generations of gamers if you take the drug test.
Shoot for being a "local legend," a "champion of the game," maybe even achieving a "high score" and remember to keep the spirit of competitive joy at the front of your intentions.  Happy Classic Arcade Gaming!
HOW DO I ATTEMPT A "WORLD RECORD?"
http://www.guinnessworldrecords.com/set … -breaking/
At Guinness World Records we want everyone, anywhere in the world to be able to make their record-breaking dreams a reality.  That's why the record application and assessment process is FREE – and always will be.  Our free record application service takes four to six weeks. The entire process – from your first application to the delivery of an official Guinness World Records certificate when a record is achieved – is offered without charge.