The main theme of this website started out with an attempt to address a simple thought- How do you succeed at Robotron?  But the journey along the road to answering the question has taken many unexpected twists, turns, and moments of revelation about the higher order of "How to succeed at life."  And you ask, of what doth he speak!?
To set the backdrop for the stage: The Vid Kidz, Larry DeMar and Eugene Jarvis, were programming visionaries who helped create a whole new sub-culture at the dawn of the video game revolution.  True artists of music, visual arts, and a theatrical ability to suspend one's disbelief within a competitive wonderland of animated pixelization.  A chaotic sea of electronic 1's and 0's finely orchestrated into a symphony of gaming excitement which sparked human connection on a deep level in our psyche.  Hence, taking what was exciting in our existing culture and celebrating it through a whole new electronic canvas of culture.
Fast forward 30 plus years, and we learn that philanthropy exists on all levels and in all avenues of life. And we learn that the Brookfield Zoo in Chicago, IL is near and dear to both the Jarvis and DeMar family.
Without further adieu, enter the true star onto stage center: Sasha Gerritson, Eugene's wife, is a prolific promoter of fine arts and has many successes through music and theatrical productions in the Chicagoland area.  Eugene's true genius appears to have been in "marrying up" in life and surrounding himself with highly talented artists….. Of special note: Sasha's ability to promote higher culture shines through via leadership efforts with The Women's Board of the Chicago Zoological Society.
On Sunday evening, September 15th, 2013 Wines in the Wild celebrated the "art of giving" with a charity auction and wine tasting event; an extravaganza of friendship, spirits, exciting auction items, delectable hors de oeuvres, and very special guest appearances by zoo animals such as a sloth, wallaby, and exotic birds.
A snippet of Sasha's speech to the audience- Youtube
The mission: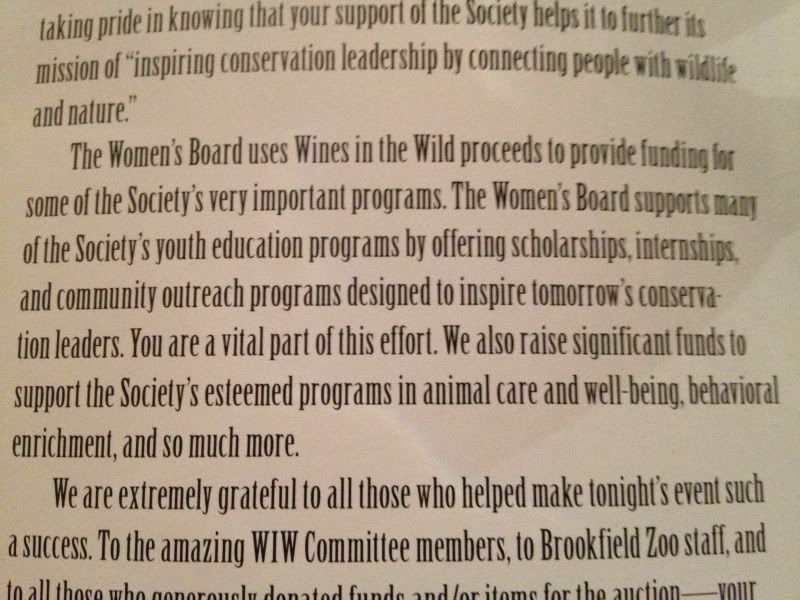 < When a formal news story is presented in the press I will place it here. >
Official Press Release from the Zoo- click HERE
To support the Chicago Zoological Society- click HERE
Wines in the Wild Fundraiser at Brookfield Zoo
Brookfield, Ill.—Enjoy exquisite wines, scotch, and craft beer at the Wines in the Wild fund-raising event at Brookfield Zoo on Sunday, September 15, from 6:00 to 9:00 p.m. The annual function, which will be held in the zoo's Pavilions, is hosted by the Women's Board of the Chicago Zoological Society.
During the tasting, themed "Swinging from the Vines," guests will be able to sample more than 80 international and domestic wines provided by the evening's purveyor, Prestige Countryside Liquors. A variety of delectable hors d'oeuvres prepared by the zoo's executive chef will accompany the spirits.
The fundraiser will also have silent and live auctions featuring fabulous bidding items such as a 2014 Kentucky Derby package that includes airfare, hotel, and tickets to the Derby for two; a 2014 Daytona 500 package for four that includes airfare, hotel, suite and pit passes, and a chance to meet Peak's No. 15 car drive Clint Bowyer, as well as Michael Waltrip and members of his racing team; jewelry courtesy of A. Marek Fine Jewelry; Beyoncé concert tickets; Chicago Blackhawks tickets; and what is sure to be a memorable trip to California's wine country.
Proceeds from Wines in the Wild will benefit the Chicago Zoological Society's animal programs, science education programs for children and teachers, community outreach events, annual scholarships, and local and international conservation programs.
The cost is $100 per person, which includes the tasting, zoo admission, parking, and a commemorative wine glass. Additionally, there will be a VIP Hour from 5:00 to 6:00 p.m. that will give wine enthusiasts the opportunity to sample exclusive wines not available during the main event as well as a chance to get up close and meet some of Brookfield Zoo's animals, including a two-toed sloth and wallaby. Choose from the $1,000 VIP Gorilla Package for six tickets, the $500 VIP Orangutan Package for two tickets, or the $275 VIP Chimpanzee Package for one ticket.
The Women's Board of the Chicago Zoological Society supports community outreach, such as school sponsorships, and provides financial assistance for animal care, conservation programs, and special projects. This Board has supported Brookfield Zoo since 1992, and its membership of approximately 85 women represents the entire Chicago area.
The Chicago Zoological Society inspires conservation leadership by connecting people with wildlife and nature. The Chicago Zoological Society is a private nonprofit organization that operates Brookfield Zoo on land owned by the Forest Preserves of Cook County. The Society is known throughout the world for Brookfield Zoo's innovative, naturalistic, multispecies exhibits and for its international role in animal population management and wildlife conservation.
Some random photo's from the event-
The program cover, a very cool illustration
Attendees were greeted to the party by exotic animals and the animal caretakers were wonderful ambassadors for the zoo.
Getting the auction started right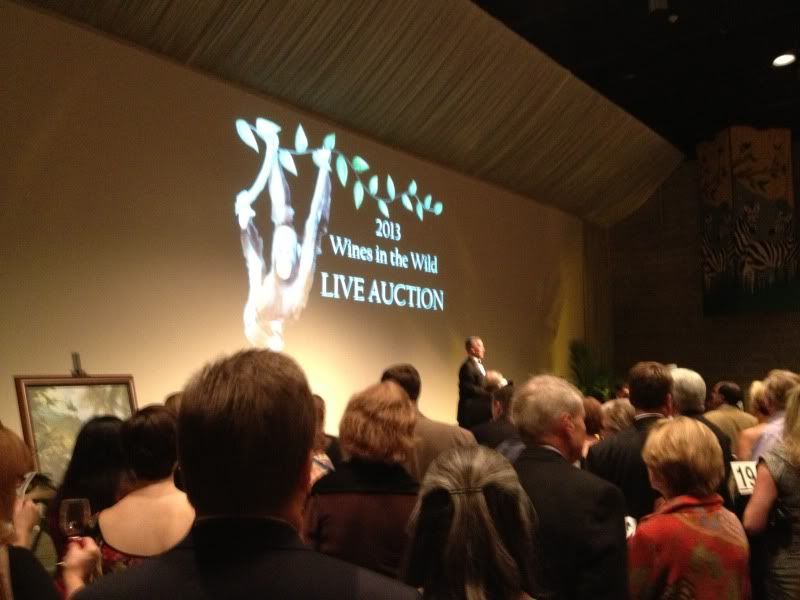 Scotch at a Wine tasting event, and a Scottish drink from France…hmmm, oh who cares about the details. It was tasty!
Larry DeMar isn't just a trustee on the zoo board, he is an avid Bears fan. Da' Bears.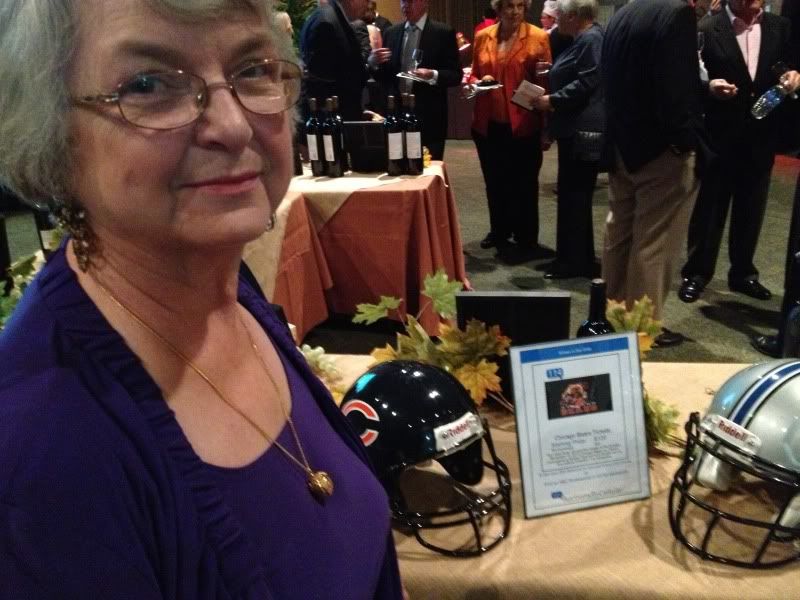 A 10 pound chocolate bar?! Yes, Please…..alas, our best bid was bested on this fine night.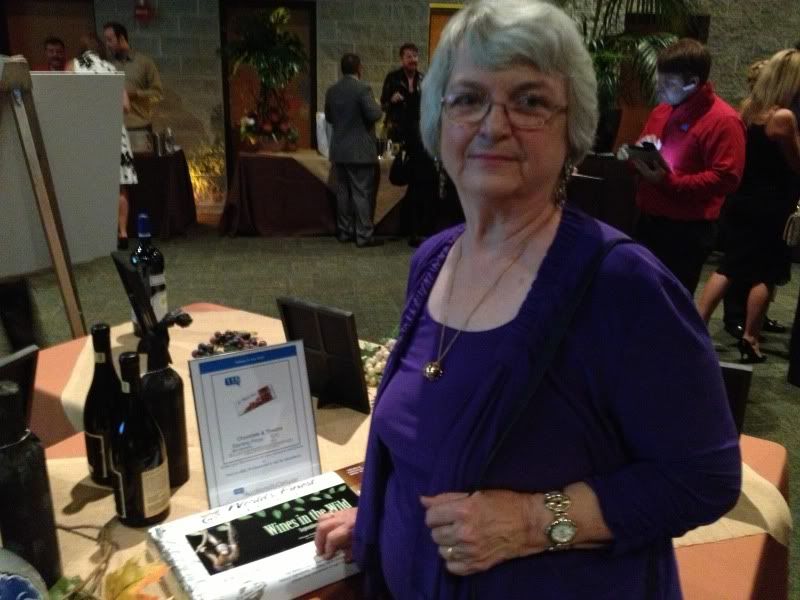 When at an event with appetizers of this calibre, well, yes we did sit close to the main path of the servers…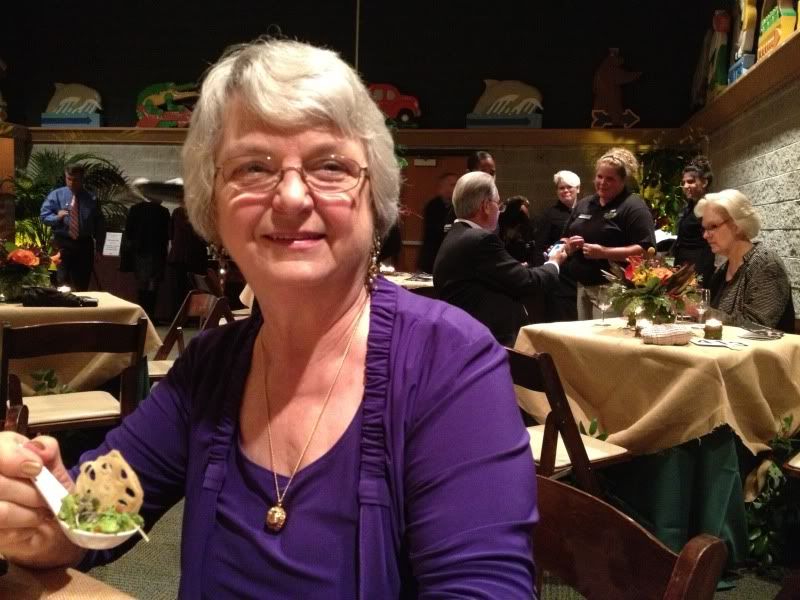 Sasha and her charming mother.
It turns out, the effort it takes to decide on a proper name for a Sloth DOES require an in-depth discussion.
Bid often, bid well, and stay healthy my friends.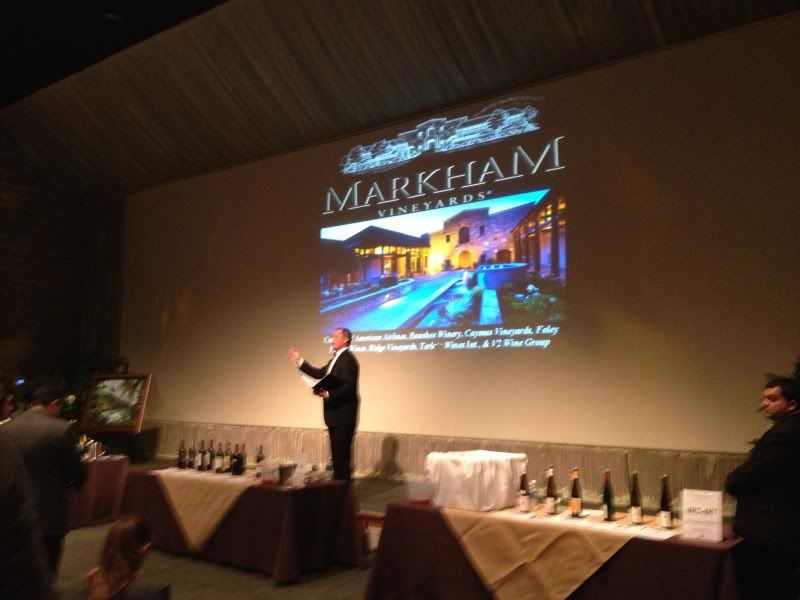 Superb hosts.  My mother, front and center, felt very special and honored to be included in the gala.  I can't thank Sasha and Eugene enough for being such wonderful hosts and patrons of community building.
I swear we didn't pre-arrange the purple tie theme. Honest.
And  in closing-
Please take a moment to DONATE to the Brookfield zoo, your efforts really do make a difference!
Don't forget to click on this
Facebook link
and "like" the Brookfield Zoo page!  🙂