[work in progress]
9:30 pm at the Ottumwa Theaters on Thursday November 1st
City dignitaries arriving
The Proclamation
Mayoral signature
Before the screening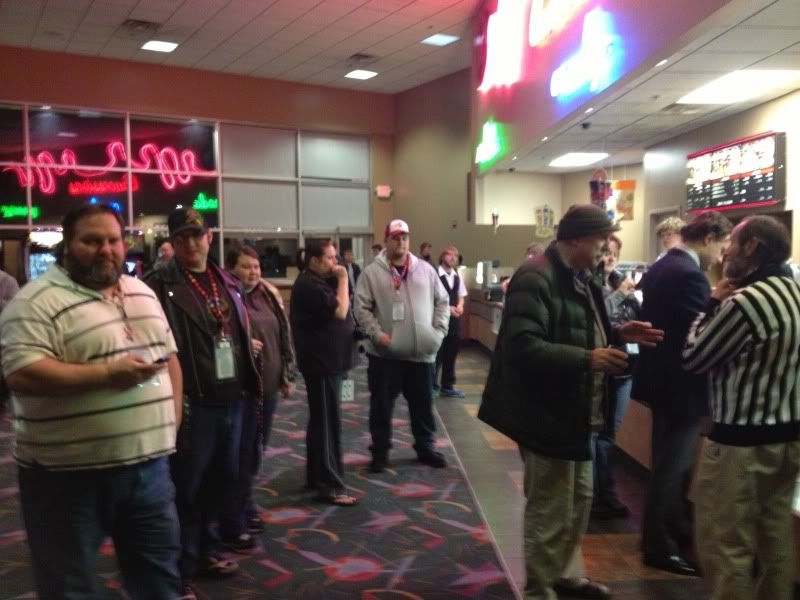 Presentation at 11:45pm
Youtube– Walter Day discusses Wreck-It-Ralph Day and the Video Game Capital of the World Proclamation
Youtube– Ottumwa Mayor Frank Flanders reads the Proclamation
These are temporary videos as they have no sound. 'Still looking for better videos from the event 🙁
Here are some of the online news venues that reported on Wreck-It Ralph in Ottumwa, Iowa.
Friday November 2nd,  Star Worlds preparation
Friday at Oswego Theater and Saturday in DeKalb
Theater Entrance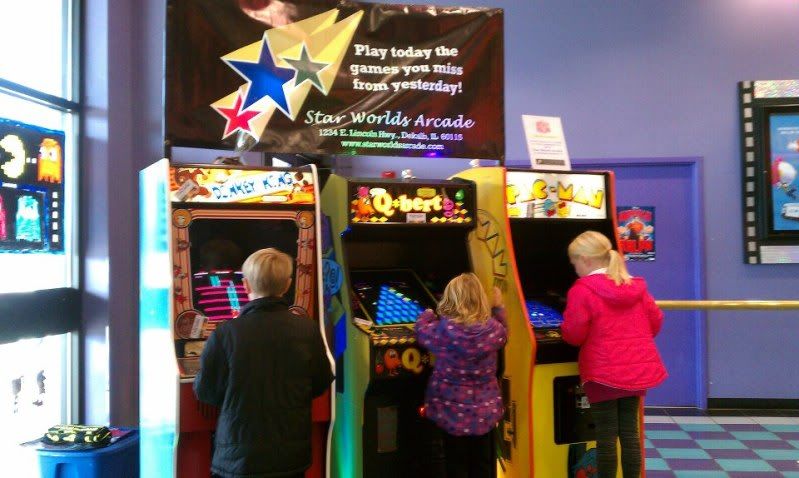 Star Worlds held a Wreck It Ralph play-off in the arcade in November (pictures pending)
They continue to promote the arcade culture at their community movie Theatre.
Sunday November 4th, Disney Wiki posts image of Mr. Litwak indicating it was based upon Walter Day
Fix It Felix Jr. concept was developed by Utah based, Avalanche Software – NY TIMES article
Disney.com provides free play of Sugar Rush and Fix It Felix Jr. – HERE
How 'Wreck-It Ralph' Revisits Retro Video Games
Ralph (voiced by John C. Reilly) and Felix (voiced by Jack McBrayer) in "Wreck-It Ralph"
By MEKADO MURPHY  Published: October 26, 2012
The synthesizer-heavy scores, the pixelated graphics, the herky-jerky character movements: these sights and sounds were touchstones for gamers who frequented the arcades of the 1980s. "Wreck-It Ralph," due Nov. 2 from Walt Disney Animation Studios, pays homage to a time when getting to the next level was simpler, while looking at the advanced ways we play today.
At the movie's center is Ralph (voiced by John C. Reilly), the villain from an imaginary 1982 game called Fix-It Felix Jr. After 30 years of doing the same bad-guy job and never being rewarded for it, Ralph has an existential crisis and yearns to be, for once, the hero. This takes him on a quest, a circuitous trip of sorts, through other games in the movie's arcade universe.
The film, directed by Rich Moore, is a tour of video game styles past and present, from racing challenges like Mario Kart to first-person shooters like Call of Duty. There are two ways that Fix-It Felix Jr. is rendered: the 8-bit style of the 1980s, used in the opening arcade sequence, and today's 3-D digital animation, showing the after-hours world of the characters. And much care went into recreating the 8-bit feel of the game, which takes cues from Nintendo's 1981 sensation, Donkey Kong. For the film's opening scenes the studio approached the animator Wayne Unten, a specialist in the graphics of that era who had been creating his own 8-bit visual artworks outside his job.
Mr. Unten, Mr. Moore and the film's producer, Clark Spencer, all spoke by phone about working in a retro style that tested Disney animation traditions.
Designing Ralph
Before drawing the 8-bit version of Ralph, Mr. Unten turned to Donkey Kong, Super Mario Brothers and Mega Man for inspiration. "These are characters that, instantly, when you think of an eight-bit character, is where your mind goes," he said. Mr. Unten joined the project when the 3-D version of Ralph, near left, was being developed. But he had seen some early concept work on the eight-bit version that he improved on, far left, following the rules of 8-bit game design.
"I was seeing things where, instead of two pixels wide for the eyes, it was one and a half pixels," he said. "And to break a pixel into a half was a big no-no for me. That's not how it was in the games. I would say, jokingly, 'We have to respect the pixel.' " Mr. Moore was persuaded.
Keeping It Simple
These images drawn by Mr. Unten are attempts to create accurate movement for Ralph that was in keeping with the 8-bit universe. At right are images from the 8-bit world of the game in which Ralph is pounding the building. The top right shot shows Ralph in perspective with angles and a little of a pounding effect as he hits the building. "I found, looking at it, that it was cool, and the drawings were dynamic, but it didn't have the feel of those old games," Mr. Unten said. "I think the charm comes when you simplify it."
In the bottom right shot he stripped away some of those details, keeping Ralph's body flat and looking ahead with an angry face. The same simplicity was achieved in the walking sequence, above. Initially he made Ralph's walk more of a traditional animated sequence with in-between moments. In the end he just used two walk poses that toggled back and forth.
Building Fix-It Felix Jr.
To achieve the look of the main game the filmmakers took a trip to Utah, home base of Avalanche Software, which had some designers who created games in the '80s. "We spent a day and a half with them, just talking terminology and what made those games work," Mr. Spencer said.
Later the company Code Mystics developed a playable version of Fix-It Felix Jr. with a basic story: The angry Ralph busts up the Niceland apartment complex, scaring its residents. It is up to Felix to repair the damage, avoid bricks being loosed by Ralph and move on to higher levels.
For the film Mr. Moore sought to have the Niceland residents use the same crude, stilted, staccato movements as in the game. Working with Disney animators to execute this scaled-back feel proved to be a challenge. "They're used to classic, realistic animation, and this style goes against everything that they've ever learned about what makes good animation," he said. "I told them: 'It's going to work out great. Just trust me.'"       A version of this article appeared in print on October 28, 2012, on page AR14 of the New York edition with the headline: Disney's New Hero Is So 1982.
Arcade Cabinet artwork-  The images in the following link can make a cabinet that looks like the movie version.
Click HERE
The MidWeek, On the Record with….  Dec 19 2012 Newspaper article HERE
Star Worlds Arcade still in play
By DAVID THOMAS – dthomas@shawmedia.com
Created: Tuesday, November 20, 2012 5:30 a.m. CST
DeKalb resident Darrin Cormier plays Robotron: 2084 on Thursday at Star Worlds Arcade in DeKalb. Cormier has visited the arcade just about every other day for the past four years. DeKalb resident Darrin Cormier plays Robotron: 2084 at Star Worlds Arcade in DeKalb, Ill., Thursday, Nov. 15, 2012. For the past four years, Cormier has visited the arcade just about every other day. (Rob Winner – rwinner@shawmedia.com)
DeKALB – Star Worlds Arcade is still chugging along in a world with epic single player games, massive multiplayer games, and social games people can play on their mobile device.
Co-owner Patrick O'Malley said the arcade, located at 1234 E. Lincoln Highway, just finished a cross-promotion tour for the movie "Wreck-It Ralph." The animated movie, featuring the voices of John C. Reilly and Sarah Silverman, takes place within different arcade games.
O'Malley said the arcade set up three different games, all of them set to free-play, at Carmike Market Square 10, 2160 Sycamore Road in DeKalb, and another in Oswego the weekend the movie opened.
"It was amazing to see kids walk into a movie theater and not even know what Q*bert was, and come out of the movie theater and see them line up for the Q*bert game," O'Malley said. "Suddenly, Q*bert was the favorite character that they liked."
Gaming, in both arcades and in general, has changed dramatically since Star Worlds opened in 1985. Amidst mobile gaming and console games that rake in hundreds of millions of dollars, O'Malley said he sees a place for a neighborhood arcade like Star Worlds.
"Star Worlds fits in wherever I want it to go," O'Malley said. "We don't just focus on the classic games. … Our slogan is play today the games you miss from yesterday. But yesterday is different depending on how old you are."
O'Malley said he has been working to include newer arcade games such as "Dance Dance Revolution" because for younger customers, a game that was initially released in 1998 could be considered "retro."
"I haven't gotten stuck in a rut on gaming," O'Malley said. "Wherever I see gaming going, whatever we can afford, whatever the public demand sets that for [us]."
That said, there are some things O'Malley and arcade co-owner Glenn Thomas won't compromise on. For instance, if an arcade cabinet was initially released with a tube screen instead of a flat screen, O'Malley will always go for the tube screen.
O'Malley described the original "Pac-Man" as looking "grainy" on a flat-screen arcade. Thomas added that if a game was originally released with a flat screen, they would include it in their arcade.
Both of them also had negative attitudes about ticket-redemption arcades such as Chuck E. Cheese and Dave & Busters, which have customers play games for tickets that they can trade in for prizes.
"You spend a lot of money to win small prizes," O'Malley said, adding that he does not like the card-swiping system.
O'Malley said the system hides the price of the games from the customer. He said Star Worlds will always be a coin-operated arcade.
"A lot of arcades are going to the swipe cards or different formats," O'Malley said. "We'll never go off of using tokens or coins. The machines are coin-operated; to me, that's how they should be operated."
Click HERE to return to the Star Worlds Main Page