The American Classic Gaming crowd is familiar with the Paper Arcade models from FLICKR.com but it took a European hobbyist to go to the extreme, even adding sound and a tiny LCD.  Meet Steve Drysdale and his magnificent micro-sized Williams models. (1/12th scale)
Steve custom makes each cabinet to order, check out his site for more info!
VidKidz special- Robotron model up close-  YouTube
You are obviously passionate about Arcades. What was your first experience in an arcade?
My first experience of any video game was in 1979, my mum and dad both worked in the local pub. Over the school holidays me and my brother would go with our parents in the morning – while my mum cleaned and my dad setup the bar for the day.
I 'd be playing asteroids (after the owner switched it to free play for me!) and i'd play for hours until it was time to go home.
My best and funniest memory of defender was in about 1983 or 84, I was watching my friend play it – he lost his last life just before he was about to beat his own high score – screamed at the machine and pulled the joystick right out!!
Any thoughts on the first Williams machines you encountered?
Robotron was and still is a favourite williams machine, however im also a huge pinball fan and love all the williams pinball tables (especially medieval madness).
I was at an arcade show just last month and was pleased to see an original robotron and TWO defender machines there, was great to play them again in their original cabinets
Where did you acquire the skills to build finely detailed models?
I've always been very 'arty' – I used to love sketching when I was a teenager (some of my sketches are on my personal facebook page)
I also used to make model kits so its something I've always enjoyed doing.
How long have you been sharing your models with the rest of the world?
Not that long really, it all started as a hobby a couple of years ago, and I kind of fell into the selling part after that!
What is the farthest away you have ever shipped a model?
So far i've sent models all over Europe but the furthest away has been sent to Australia!
My models are handmade there are little imperfections here and there but ive not had any complaints yet!
Any interesting stories about first reactions to a Classic arcade fan seeing your artwork?
I made a couple for a chap in Germany (star wars cockpit and phoenix) he loved my models so much he sent me a review of them which i put on my facebook page, and he even went as far as to send me some electric tools so i could model quicker!!
What types of tools or materials are required for such projects?
When I first started these as a hobby I made them from balsa wood, but this year I have changed to Basswood (an American based lime wood) mainly for its firmness, its also easier to model with as balsa is flimsy and snaps too easily
After building, each model is HAND (not spray painted) painted twice, then the artwork (made from my own templates for most of my models) is printed onto glossy paper (I had toyed with getting them printed professionally but at £25 a sheet i would have been at a loss) and glued on
I then add mini joysticks and buttons and plastic 'glass' over the bezel area of the screen and the marquee.
I have recently found on the internet a 1.5″ lcd MP4 player and have imported a couple from china to test them inside my models – they should be able to play video and sound for that extra touch!
If a home hobbyist were wanting to try something like this on their own- Do you have a few tips to share to get them started?
Start with paper arcade (FLICKR.COM) first then go from there – it's what i did!
Contact Info:
I take customer requests for models and have a huge selection of homemade templates
I'm always willing to try something new!
My website @ www.arcademodels.co.uk has all the info you need to contact me and you can also find me on facebook 'Subzero's Arcade Models'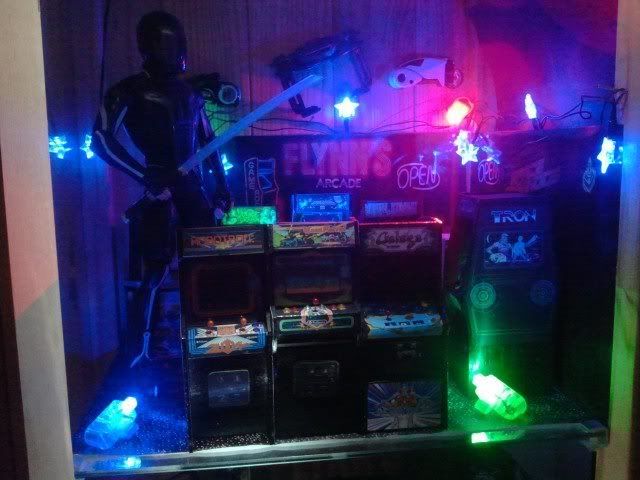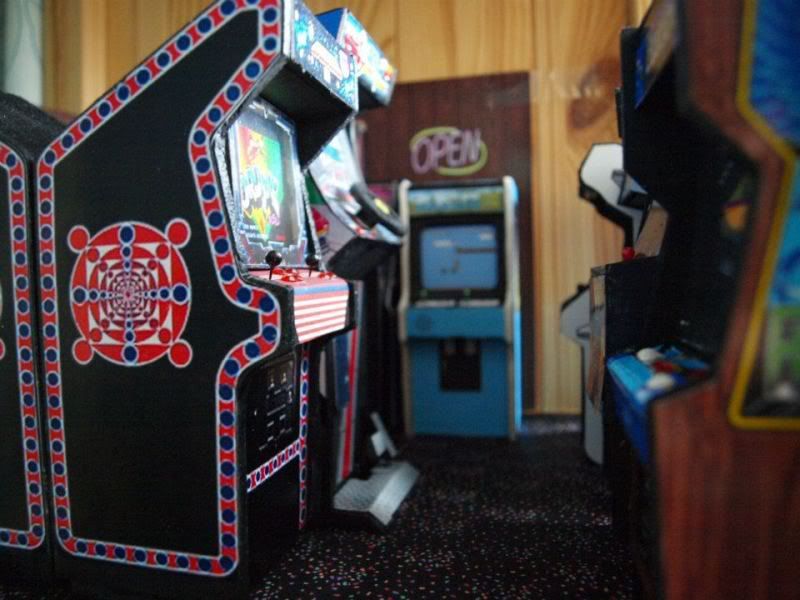 CLICK to return to the Guidebook homepage